Writing by Louis Greenberg
My new novel, Exposure, was published by Titan Books UK and US in November 2021.
In a Britain akin to this one, Vincent Rice falls off a ladder, literally at Petra Orff's feet. They introduce themselves, and immigrant Petra senses a kindred spirit in Vincent's complex sense of home. He offers to take her to Metamuse, an alternative theatre experience like no other that he won tickets to in a competition he doesn't remember entering.
The first show leaves them besotted with each other; the second is far more disturbing. Inexplicable occurrences pile on top of one another, all connected to the mysterious Metamuse. Only Petra can see the web of sinister coincidences surrounding them both and, with injustices both past and present weighing on her mind, she begins to wonder if Metamuse is more than just a show...
You can order Exposure from all your favourite book retailers.
Reviews of Exposure:
Read an interview with Louis about Exposure in the Trans-Scribe blog.
"Exposure is a uniquely English piece of sci-fi, it sits with Black Mirror or Vurt in being quintessentially about this island, dealing with its topics in a way that only the English can." Jamie Mollart,
British Science Fiction Association
, October 2022
"A very thoughtful, mindful book that begins at pace and does not let go." 5/5 from
Rachel Read It
, January 2022
"A smart, insidious psychological horror ... Exposure is nothing short of addictive. ... This is a fantastic novel; horrifying at turns, gripping and compelling, and singularly unique. Exposure is a must read."
The Book Beard Review
, December 2021
"Exposure's purposeful slide into the uncanny ... is well-handled and unsettling." – 4.5 stars from
SFX
, December 2021
"Exposure is a book that is hard to pigeonhole ... would suit a reader who likes to be challenged and question what they are reading." –
SFBook Reviews
, November 2021
"Exposure is a challenging and refreshing read." –
Bloody Flicks
, November 2021
"What I loved about this story is the way this plays with reality within the structure of a book." –
Runalong the Shelves
, November 2021
"Original and haunting. Exquisitely written." –
Offbeat YA
, November 2021
"Exposure is an interesting and twisting narrative filled with mystery, one that gets you thinking and will keep you reading." –
Set the Tape
, November 2021
---
Green Valley is a post-cyber noir about truth and fakery. Titan Books published it in English worldwide in June 2019.
Its first home was the excellent German publisher, Heyne Verlag, who published it in November 2018. Click here to visit Random House Germany's page on Die Bedrohung.
When Lucie Sterling's niece is abducted, she knows it won't be easy to find answers. Stanton is no ordinary city: invasive digital technology has been banned, by public vote. No surveillance state, no shadowy companies holding databases of information on private citizens, no phones tracking their every move. Only one place stays firmly anchored in the bad old ways, in a huge bunker across town: Green Valley, where the inhabitants have retreated into the comfort of full-time virtual reality—personae non gratae to the outside world. And it's inside Green Valley, beyond the ideal virtual world it presents, that Lucie will have to go to find her missing niece.
Reviews of Green Valley:
"A smart science fiction thriller that was definitely worth the wait." – SFX
"The taut technological mystery keeps readers on edge to the very end." – Publishers' Weekly

2019 Foreword Indie Awards Bronze winner!
Listed on Barnes and Noble's selection of best SFFH for June 2019.
One of the Morning Star's best SFF of 2019.
Listed in Kirkus Reviews' SFFH selection for June 2019.
"Green Valley is an enthralling and dark sci-fi thriller. Taut, emotional and clever, it's a novel as gripping as it is unsettling." - Bookbeard Reviews, January 2022
"A genre-bending novel that's never quite what you expect it to be." - Worlds in Ink, July 2021
"Immersive and engaging ... my expectations were thoroughly blown out of the water." - Emma Berry's World, January 2020
"Greenberg's come up with a fresh approach to the cyber-dystopia setting in this exciting conspiracy thriller." Green Valley is one of the best SFF books of 2019 in the Morning Star, December 2019
"It's classic Greenberg: elegant imagery, piercing insights and fast pace." – Sunday Times, September 2019
"Greenberg is a clever, alert and ambitious writer, capable of creating unique environments, strong characters, and interesting plots." – Storgy, August 2019
"Intriguing ... a well told tale." – Sci-Fi Bulletin, August 2019
"Expertly handled ... a tense and gripping tale." – British Fantasy Society, July 2019
"Addictively gripping ... highly original and wonderfully written." – Mike Reads, July 2019
"Greenberg has woven an engrossing tale." – Scifi Movie Page, July 2019
An "unsettling, slowburning thriller ... enough to make you put your iPhone down for a min—" – Mystery Scene, July 2019
"A smart science fiction thriller that was definitely worth the wait." – SFX, June 2019
"A very special example of Techno-Terror ... creepy and intriguing." – The Hebridean Reader, June 2019
"An incredibly atmospheric read ... such skilled writing ... it really had a deep effect on me." – Paperbacks and Pinot, June 2019
"This personal story is very engaging, and keeps you hooked throughout." – Set the Tape, June 2019
"An arresting tale of complicated moral compromises at the end of the digital rainbow ... a chilling and thought provoking read." – Cultural Conversation, June 2019
"A breakneck novel ... Dark twists lurk around every corner." – Foreword Reviews, June 2019
"With its clever ideas and great pacing, Green Valley is the type of science fiction book that will make a reader think." – SF Book Reviews, June 2019
"Green Valley is a stunning thriller, a tense story, a horror, but it's also a well-played out detective tale in a world of what could have been. Utterly brilliant." – The Dream Cage, May 2019
"Tense and compelling ... commercial and timely" – Horror Channel, May 2019
Green Valley "suggests [Greenberg] has the potential to be a darkly prophetic voice for our turbulent times." – Shots Mag, May 2019
"Slick, action-packed and thrilling." – A Girl with a Book, April 2019
"The taut technological mystery keeps readers on edge to the very end." – Publishers' Weekly, March 2019
"Ich die Sache mit der virtuellen Wirklichkeit wirklich gut fand." – Bine's Bucherwelt, January 2019
"Ein spannender und interessanter Blick in eine mögliche Zukunft." – Hallo-buch.de, January 2019
"Intelligent verschachtelt." – Buchtips.net, November 2018
---
Dark Windows was first published in South Africa by Umuzi in April 2014. It is now available worldwide as an e-book.
Johannesburg is becalmed. A wave of New Age belief and an apparent cure for crime have radically altered South Africa's political landscape.
Jay Rowan has been hired to black out the windows of random vacant rooms. He's trying to keep out of trouble, but he's a pawn in political aide Kenneth Lang's project Dark Windows. A mystical charlatan has convinced Lang's boss that she can affect the ultimate transformation with a supernatural visitation, the Arrival, and Lang needs to prepare for its coming. When Jay and his married girlfriend Beth realise that someone has died in every room, political and personal tensions come to a head and Jay, Beth and Lang must confront the past they've been trying to avoid.
Dark Windows is a smart, moody political thriller.
To buy:
Smashwords and many online book retailers.

Reviews of Dark Windows:
"A too-close-to-home political thriller." Dark Windows featured by the Sunday Times in a round-up of appealing dystopian fiction.
"It is the imagined world that the writer has created that sets this novel apart. It is an ingenious creation." – Penny de Vries
"Thoroughly unpredictable, character-driven, quietly clever and illuminating through its spare, exacting prose." – Cape Times
"Serious and interesting." – Mail & Guardian
"This novel is one of the most interesting and remarkable to be published in South Africa for some time." – The Times
"A quick-thinking, provocative piece ... The ending alone is worth the read." – The Word Wrangler
"Greenberg has come of age as a writer, expertly investigating rebellion, responsibility and permanence." – Sunday Times
"Dié apokaliptiese verhaal [boei] tot die laaste bladsy." – Rapport
"Enjoy it for Greenberg's very beautiful writing, his characters, and his insights into the personal side of SA politics, morality, faith, and human nature." – Violin in a Void
Read about the origins of Dark Windows at The Spark blog, hosted by Lauren Beukes.
---
The Beggars' Signwriters, my first novel, was published by Umuzi in 2006. Set in Johannesburg, London and the Karoo desert, the interconnected strands in The Beggars' Signwriters curl their way along the visceral formative paths of several characters who strike violently creative sparks off each other. In 2007, it was shortlisted for the Commonwealth Writers' Prize and the University of Johannesburg debut prize.
It is now available to buy worldwide as an e-book at Smashwords and several online retailers.
Reviews of The Beggars' Signwriters:
"10 Things I Loved About The Beggars' Signwriters" – Colleen Higgs
"Greenberg has written a novel which reminded me of how soothing good writing can be." – Janet van Eeden, The Witness
"Finely observed, touching, funny, and so beautifully written." – Jassy Mackenzie
"The Beggars' Signwriters has a fascinating architecture. Louis uncovers people's foibles and failings with great tenderness and insight." – Liesl Jobson
"It's heady stuff, insightfully narrated, that looks at the nature of art and the existential drama of just being alive." – Northcliff & Melville Times
"Greenberg's writing is both delicate and controlled, his observations astute and his eye for emotional detail fine." – Gwen Podbrey, Jewish Reporter
"Greenberg se skryftalent blyk duidelik uit sy debuut." – Salome Snyman, Rapport
"His novel draws the reader in with its detailed descriptions, recognisably South African situations and characters, and warm narrative."– People
"Greenberg's writing is insightful, the descriptions are vivid and he provides substantial depth. In many instances his characterisation is superb" – Trish Murphy, Sunday Independent
---
Rafiki's style is all his own, but when the Cool Cat Crew struts by, he starts to wonder if it's good enough.
Rafiki's Style was created at Book Dash Johannesburg on 27 July 2015 by Audrey Anderson (illustrator), Louis Greenberg (writer) and Wesley Thompson (designer). It's currently available in all eleven of South Africa's official languages.
Book Dash gathers creative volunteers to make brand-new African storybooks that anyone can freely print, translate and distribute. You can download and distribute Rafiki's Style and dozens of other children's books for free at bookdash.org.
Click here to read a blog about my experience at Book Dash.
---
The Ghost-Eater and Other Stories, a collection of short stories by thirty-one new and established writers co-edited by Diane Awerbuck and me, was released in September 2013. Funny and sad and highly original, the stories in The Ghost-Eater and Other Stories are invested with the passion, truth and quirkiness of the newest New South Africa and further afield and give readers a chance to gauge emerging and developed talent writing in South Africa at the moment.
Click here to read more, and here for South African e-retailers' links.
Reviews of The Ghost-Eater and Other Stories:
"Humorous, disconcerting, dark or poignant; they will quietly slip you into unexpected realities" – This is My World
---
Being South African isn't as black and white as it used to be. People from all over the world make South Africa their home, while South Africans have more geographic freedom than ever before. This unique and captivating collection is a snapshot of South African writing today: emigrant and immigrant South Africans, living at home and away.
In Home Away, twenty-four chapters by twenty-four writers, set in cities all around the world, make up one global day, a mosaic reflecting on the nature of home. As the provocative stories in this collaboration suggest, often it's when we are far away from home that we see it most clearly.
Home Away was published by Zebra Press in 2010. It is now out of print and a fine collectors' item.

Reviews of Home Away:
"A very good read" – Lauri Kubuitsile
"This is fascinating material." – Maureen Isaacson, the Sunday Independent
"A delight to read … a wonderful break from the humdrum of normal life" – Claire Reddy, You
A "work-of-art compilation" – Shafinaaz Hassim, Rapport
"A dizzying dance of voices, places and spaces that reflect the experience of the South African traveller" – Tali Barnett, The South African
"I am a satisfied reader. I feel as if I have indeed been on an incredible journey." – Joanne Hichens, the Cape Times
"It is a magnificent compilation" – Mandy J. Watson, Brainwavez.org
"Top-drawer material" – Don Makatile, the Sowetan  
---
Stories and articles
Some of the short stories, poetry and academic articles I've published:
Short stories:
My short story, "Oasis", was longlisted for the 2015 Short Story Day Africa Prize, and is collected in the prize's anthology, Water, along with the winning story by Cat Hellisen and all the other longlisted stories from around Africa.
Read more about the anthology here, about Nick Mulgrew's cover design here, and about the shortlisted and longlisted stories here.
Download a free PDF of "Oasis" here.
"Akhenaten Goes to Paris", The Book of the Dead (Jurassic London, October 2013)
"I was particularly tickled by the long-lost mummy of Akhenaten trying to get through French passport control after putting on a wig and a body stocking and slathering his face with bees wax `to look less….dead'." - Fantasy Reads
"A signature piece [featuring] a gleefully macabre cabal of mummies" - Nerine Dorman, This is My World
"I just adored Louis Greenberg's Akhenaten Goes to Paris" - A Fantastical Librarian
"By far the funniest of the whole bunch" - Niall Alexander, Tor.com
"Nicely done." - This is How She Fight Start
Download a free PDF of "Akhenaten Goes to Paris" here.
"Last Chance at the End of the World", Home Away (Zebra Press, 2010)
"Tender and loving and laugh out loud funny" - Lauri Kubuitsile, Thoughts from Botswana
"Origami", New Contrast 146, Vol. 37 No. 2
"Mnandi", New Contrast 137, Vol. 35 No. 1
"The Track", Short Story Review of Southern Africa, Vol. 4 No. 1
"The Winter Garden", New Contrast 124, Vol. 31 No. 4

Poetry:
"Hunt" Carapace No. 34
"Background Music" Carapace No. 32
"Hyde", "A Dream", "Meaning"  SQ, Vol. 3 No. 3
Academic:
"'A Museum of Fifteen Years Ago': Nostalgia in three novels by Douglas Coupland" (Journal of Literary Studies, 29.1, March 2013)
"Rewriting the End: Douglas Coupland's treatment of apocalypse in Girlfriend in a Coma and Hey, Nostradamus!" (English Studies in Africa, 53.2, December 2010)
"Sins of the Blood: Rewriting the family in two postmodern vampire novels" (Journal of Literary Studies, 26.1, March 2010)
Download my 2010 PhD thesis, "Faith at the Edge: Religion after God in Four Novels by Douglas Coupland"
Download my 1998 MA dissertation, "BloodLust: Family, Sex, Gender and Belief in the Contemporary Vampire Novel"
---
S.L. Grey's novels
Click here for some reviews of S.L. Grey's writing.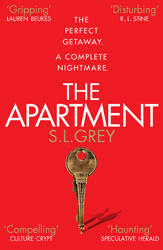 The Apartment was published in the United States in October 2016; in South Africa, Ireland and the Commonwealth in September 2016; and in the UK in March 2017.
"A haunting thriller about a troubled married couple whose vacation leads them into a nightmare.
Mark and Steph have a relatively happy family with their young daughter in sunny Cape Town until one day when armed men in balaclavas break in to their home. Left traumatized but physically unharmed, Mark and Steph are unable to return to normal and live in constant fear. When a friend suggests a restorative vacation abroad via a popular house swapping website, it sounds like the perfect plan. They find a genial, artistic couple with a charming apartment in Paris who would love to come to Cape Town. Mark and Steph can't resist the idyllic, light-strewn pictures, and the promise of a romantic getaway. But once they arrive in Paris, they quickly realize that nothing is as advertised. When their perfect holiday takes a violent turn, the cracks in their marriage grow ever wider and dark secrets from Mark's past begin to emerge.

Deftly weaving together two complex and compelling narrators, S.L. Grey builds an intimate and chilling novel of a disintegrating marriage in the wake of a very real trauma."





The Apartment is also available or forthcoming in French, German, Dutch, Russian, Italian, Hungarian, Korean, Thai, Chinese, Taiwanese, Japanese, Danish, Spanish, Hebrew and Polish editions.
---
Under Ground
: A page-turning locked-room mystery from the combined talents of Sarah Lotz and Louis Greenberg, writing as S. L. Grey. It is perfect for fans of 
Under the Dome
 by Stephen King and films such as 
The Hole
 and 
The Descent
 (with a pinch of 
And Then There Were None
 by Agatha Christie). Published July 2015
THEY THOUGHT THEY WERE SAFE . . .
The Sanctum is a luxurious, self-sustaining survival condominium situated underground. It's a plush bolt-hole for the rich and paranoid - a place where they can wait out the apocalypse in style. When a devastating super-flu virus hits, several families race to reach The Sanctum. All have their own motivations for entering. All are hiding secrets.
But when the door locks and someone dies, they realize the greatest threat to their survival may not be above ground - it may already be inside . . .




Under Ground is also available or forthcoming in Dutch, Turkish, Korean, German, French, Spanish, Hebrew, Japanese and Italian editions. (Click on the covers to view or buy.)
---
The New Girl, the third and last book in the Downside trio, was released by Corvus in October 2013. The paperback will be in South Africa and around the Commonwealth in November.
"A surprisingly funny, deeply weird horror novel ... genuinely fresh" – SFX
---
The Ward, the next dose of S.L. Grey, was released in paperback and ebook by Corvus on 1 October 2012.
"Equals – if not trumps – the disturbing, creepy horror of their first" The Independent, 2012 Books of the Year
"Startlingly well written" – Diane Awerbuck, The Times
"An original and unsettling novel from an exciting new talent" – Will Salmon, SFX
---
S.L. Grey's first book, The Mall, was published in the UK and Commonwealth by Corvus in June 2011. It is now out in paperback.
"One of the cleverest, creepiest and most memorable horror novels for ages … a masterful debut." – The Independent
"Deliciously evil" – The Guardian
"Satire of the most mournful kind" – New York Times Summer Reading 2014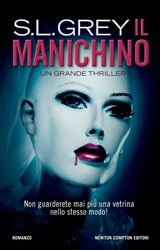 The Mall is published in Dutch by De Arbeiderspers as De Plaza, in Turkish by Ithaki Yayinlari as AVM, in Italian by Newton Compton as Il manichino and in German by Festa Verlag as Labyrinth der Puppen (December 2013). (Click on the covers to view or buy.)
---
S.L. Grey's short stories
S.L Grey has published various short stories. You can find them in these collections:
"The Dental Gig", our story about the work pressures of a modern tooth fairy, is included in The Outcast Hours, edited by Mahvesh Murad and Jared Shurin. It's a slick, dark, glittery anthology filled with the night-time imaginings of writers from six continents. It's coming in February 2019, and you can read more and get pre-order links here.
We promised we'd be back to short storying with our tongues in our cheeks; we didn't know it would take five years! Soz.
Superstardrifter liked the collection, and called "The Dental Gig" "a wonderfully unique story". Full review here.
The Dental Gig "reminded me of Terry Pratchett at his best": Blue Book Balloon.


Our horror road story, "Bingo", was included in the Solaris collection, End of the Road, which came out in December 2013 and won the 2014 British Fantasy Society award for best anthology. In a comprehensive review, Tor.com calls it "absolutely brutal". (We'll be back to the satirical laughs in future pieces, promise!)
A Fantastical Librarian called "Bingo" an "effective blend of horror and fascination ... packed with social commentary" Full review here.


Our story, "We'll Always be Here", is our twist on Pluto and Charon for the spectacular science-fiction collection, The Lowest Heaven, published by Jurassic London. Released in July 2013, it was longlisted for the 20 in Twenty short story selection, honouring the best South African short stories in twenty years of democracy.
You can hear a free podcast of this story, beautifully read by Kim Lakin-Smith.
A Fantastical Librarian highlighted our story for special praise: "I loved S.L. Grey's We'll Always Be Here ... for the complicated love/hate relationship between Pluto and Sharon ... I found it tragic and quite a deft social commentary." Full review here.
Meanwhile, Staffer's Book Review says of "We'll Always Be Here", "I would be willing to buy the entire book for this one story alone." Full review here.
Mavesh Murad wrote for Pakistan's Dawn newspaper that "My personal favourite in this anthology is South African writing duo S.L. Grey's 'We'll Always Be Here'. A great contemporary, entirely readable combination of funny, frightening and clever science fiction."
In her Strange Horizons review in which she calls The Lowest Heaven a "work of art", Sarah Frost writes that "We'll Always Be Here" is "one of my favourite stories in this collection ... a wonderful piece of SF nightmare fuel."
Click here for more information, and details on where to get it.


Our flash fiction, "Still", appeared in the beautiful photography-fiction collection and Saboteur-award runner-up, Still: Short Stories Inspired by Photographs of Vacated Places, put together by photographer Roelof Bakker at Negative Press.
Click here for more information, and details on where to get it.


"OMG GTFO" was our vision of the end of the world alongside those of many other current and hot and happening apocalyptic writers. It appeared in Pandemonium: Stories of the Apocalypse, published by Jurassic London. It was released in a limited edition in 2011 and is now a prized collector's item. You can still read about it here, though.

In 2015, "OMG GTFO" was republished in the Electronic Frontier Foundation's collection, Pwning Tomorrow.